Isaiah 43:1 "When you pass through the waters, I will be with you."

"When you pass through the waters, I will be with you." Isaiah 43:2
WHAT HAPPENED: Late on Monday, August 12, we had a heavy rainstorm here in Fort Wayne, IN after a long period of near-drought conditions. Kinetic Revelation Academy of Dance and the Arts is on the lower level of our building. There were two sump pumps but they both failed and the alarm on both of them also failed, so we don't know how long they had not been working. At about 4:15 on Tuesday, Aug. 13, Kimberly Bronson, the studio's owner and director, went into the studio to get ready for a rehearsal and discovered that the studio had flooded. That day, we rehearsed two songs which we had to take a little more literally than we had ever imagined: "Abundance of Rain" and "Dance In the River."

By the time the backup pumps were placed in the studio on Wednesday, the water had risen to almost 6" and, while it didn't completely cover our dance floor, it ran completely under it, covered most of the top of it, and ruined it. The studio flooded once more after the initial water was pumped out of it because the backup pumps could not keep up with the heavy rains we experienced over the next few days.

Dance floors are extremely specialized and very important to the long-term health and well-being of our dancers, but this makes them expensive. The dance floor was mostly underwater for somewhere between 36 and 40 hours and during that time, the water became contaminated. The floor was not salvageable, along with some of our furniture, many supplies, and other items.

WHERE THAT LEAVES US: The worst news in the midst of this was that we thought we were insured but the studio insurance did not cover our loss. My landlord's insurance didn't even cover all of his loss (it only covered the sump pumps) and doesn't cover any of ours, so our losses are not insured. Our season started on August 27 and we are holding classes in a temporary location (we are so grateful for Parkwood Church of God allowing us to use their gym) until the studio can be renovated. (Do yourself a favor, check your policy or with your agent for what is covered and what isn't. Don't assume you know.)

WHAT WE'RE ASKING FOR HELP WITH: There is more information below, but here's the short version: though I absolutely hate asking, we are in need of your help in replacing our floor and other items ruined in the flood. There is no money available to cover these items. Just the floor could be over $9500 (we won't know for sure until we get it done.) We will be doing this funding campaign as well as an online silent auction of several items and a few other things to raise money as quickly as possible so we can get the floor replaced and get back into our studio as soon as we can!

The amount we need to raise is a lot, there's no debating that, but even $5 will help and we deeply appreciate anything you can give us to reach this goal. In case you wonder, when the Funding campaign goes into effect, the system will charge us a 3.2% processing fee plus $1 per transaction. If you'd prefer to give via check, you can mail gifts to 3817 South Drive, Fort Wayne, IN, 46815. We are not a not-for-profit organization, but we can provide a receipt if you need one.

Getting our floor the first time was nothing short of a miracle. We need another miracle! Thank you for being a part of it!

ABOUT US: Kinetic Revelation is a small faith and technique-based studio. Kimberly Bronson is the founded Kinetic Revelation in 2009 at Taylor University. Prior to that, she owned Praise in Motion from 1987 to 2000. She currently teaches all of KR's dance classes. Kimberly's goal is not just to train dancers, but to partner with parents to build character and give support to our students' faith - to train the whole person. One of our values is that we put people above profit. Kimberly has been teaching for over 30 years and absolutely loves what she does, even though paychecks are honestly few and far between, but that leaves no room for covering the cost of this loss.

WHY IS THIS EXPENSIVE FLOOR NECESSARY? Honestly, it is a necessity to be good stewards of our bodies! Kimberly has chronic injuries because of dancing on bad floors through most of her career and the importance of a sprung dance floor can't be overstated. Due to her injuries, Kimberly can't teach on a bad floor long-term and does not want to put her students at risk for injuries due to dancing on bad floors.

WHAT'S SO SPECIAL ABOUT THIS FLOOR: Our floor was a triple sprung floor, which means that it has three layers of 1x4s which are supported by neoprene pads that don't break down over time, and two layers of plywood, then a dance surface on top. This gives us the perfect balance of rebound and support and it means that there are no hard or soft spots on the floor. The roll-down layer on top didn't work as well as we'd hoped because of the humidity in the lower level and some of it may not be salvageable, so we would like to go in a different direction with that element of our floor, but the rest of it was perfect.

THANK YOU from the bottom of our soles and our souls for helping us replace our floor and get back into our beautiful studio!

UPDATE: We moved back home and are in the process of everything being put back together but we have not covered the cost of the repairs yet, so even though we are back, we still need and appreciate your prayers and donations!!!

Isaiah 43:1-2 "Do not fear, for I have redeemed you; I have summoned you by name; you are mine. When you pass through the waters, I will be with you."
Give with Trust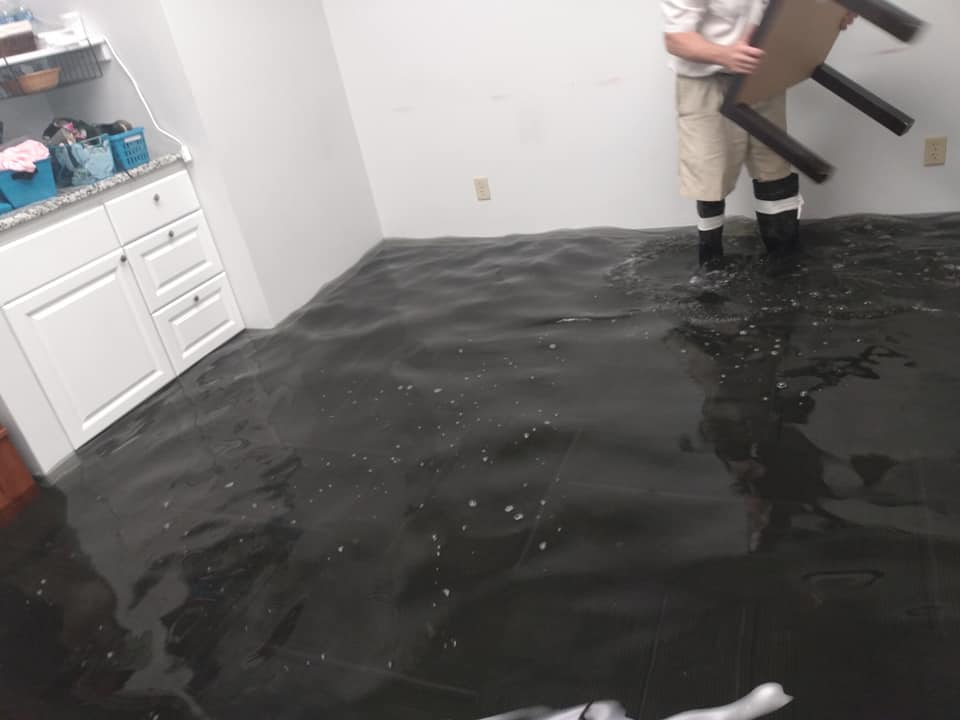 To learn more about Kinetic Revelation Academy of Dance and the Arts, call 260-409-8034.
Donate with Paypal
This form is secure. However, you can alternatively make a gift through PayPal.